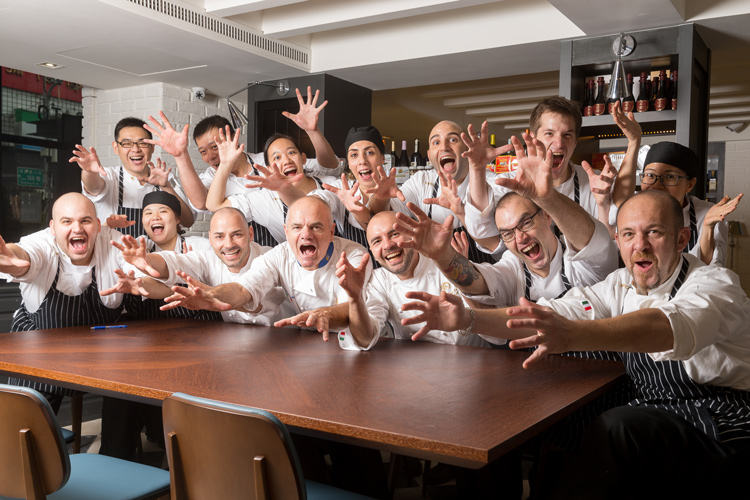 The "Market" of ten restaurants, is opened in Taiwan and more precisely in the capital, Taipei and sees me as its protagonist from 2016 to 2019. No typical products, local dishes and oriental philosophy because as president of Euro-Toques Italy and International I decided, with all my collaborators, to bring a piece of Italy and Italianness. And so that not only the menu is composed of dishes from the Belpaese prepared with "Italian" products, but also every single part of the décor, equipment and service in general is made in Italy.
In a year since opening we have achieved an honestly unexpected success. One hundred covers available on the two floors of "The Market" which can also count on a very impressive terrace. The design was curated by the Florentine architect Michele Bonan who chose every Italian-style furniture, including the strictly marble tiles of Carrara.
It is natural to ask why Taiwan was chosen: it was chosen as the location because I got to know Michael De Prenda, the American investor who believed in this project, during the 9 years I spent in Japan; his wife is originally from Taiwan and so I discovered this place believing it suitable for the project. The "Italian" product was very much liked and we also felt that the success was dictated by the very low prices compared to the quality of the cuisine we proposed. Kitchen but not only, because also the wine list is very well supplied with 100 wineries present and prices that, in some cases, are lower than in Italy.
As for the team, I wanted to bring with me some trusted chefs including three of Euro-Toques: Marco Nadin (second chef), Paolo Morresi (head chef) and Manuel Baima (head pastry chef). As a consultant the "best sommelier in the world" Giuseppe Vaccarini, while Fabio Fasolo was director of the hall. A total of 20 Italian children work in Taiwan.
Finally, the name of the restaurant, which suggests a double offer: "The Market" not only does restaurant service, but also sells Italian products.