A great evening, a great event. The Tree of Life as the backdrop, more than 700 guests including press, collaborators and friends, talented cooks and entertainment between music and dances. Privitera has been the centre of the 30th birthday celebrations to present to its audience La Fenice, a revolutionary maxi greenhouse modulatable in iron and compact polycarbonate. The entrance is triumphant, the Tree of Life dominates behind the structure.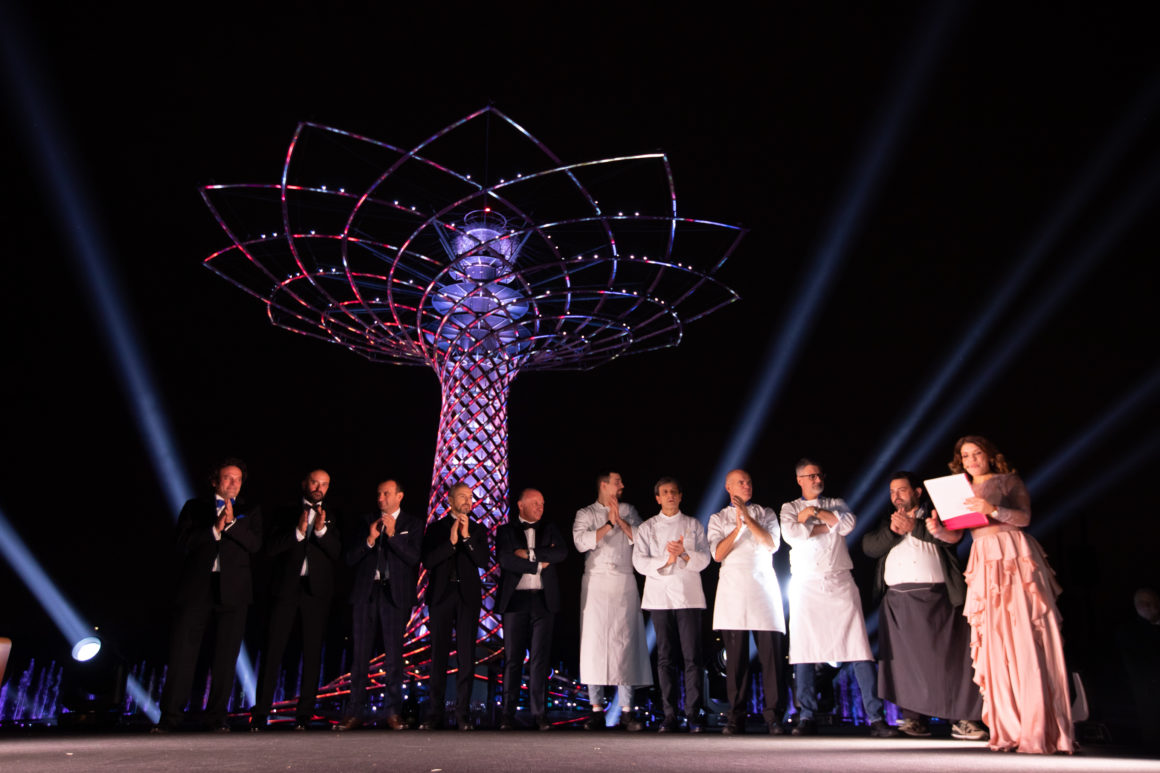 The interior is divided into three areas: tables filled with bouquets of white roses, elegance and glitz in the first; colorful balloons, cameras and a white tail piano in the second; later then a third elevated room with tables and bar counters in the center, which closes with a large stained glass window overlooking what is left of ExpoMilano.
"A beautiful event here, like the many times we've worked in Expo." Reproposing my Queen Victoria Risotto: "27 kilos of rice tonight! With the red prawns of Mazzara del Vallo, Parmigiano Reggiano 36 months, a very good malga butter… It's all over!"
With me Giuseppe Mancino. Never tired the creative bistellate of the Grand Hotel Principe di Piedmont in Viareggio. In his post a wild salmon lightly cooked on skin, avocado, lime, yogurt and green apple: "A somewhat characteristic dish that reflects a fish sashimi", which, however, was missing nothing, "had the acidity, freshness and even the flavor". Mancino's attention is also present outside The Little Prince: "Even if we do a 600-person event, the quality on the plate and the touch of a gourmet chef must not be lacking."
Always present in the events that bring Euro-Toques to all Italy, the chef of La Preséf, the star Gianni Tarabini: "I always tell my guys that the best way to ensure the quality of the raw material is not to spoil the latter, then the variations can be multiple, depending on the ability of the chef". Tarabini's raw materials have them out of the house – to say the least centimeter zero – these are the productions of the company La Fiorida in Mantello (So). From there, for the event labeled Privitera, the egg as a raw material for the dish "The Dream and the Emotion".
Sandro Serva echoes him, with his smoked cappuccino, coffee ricotta and orange croissant, a dish that speaks for itself about the tradition that Sandro and his brother Maurizio have been reproducing and reinterpreting for years in La Trota, the two Michelin-starred restaurant in Lazio. "Ours is a well-established style of cooking, when we take it to events like this we see that it is very appreciated and we are happy about that." Sandro Serva is also Euro-Toques delegate for the Lazio region: "A role that guarantees and promotes the sense of team".
The team sense reiterated and shared the guest next to the four Euro-Toques chefs, Gianluca Renzi of Attimi by Heinz Beck in Milan, to make the veil of the sad with a fillet of veal, almonds, tangerine and purple cabbage. "For me it means everything, because without a team any chef would not be able to achieve his goals. Team means this: collaboration and a sense of positiveness."